Creepy Parade (Street performance)
'Creepy parade' is a street performance collaborative project.
This project is developed through the Unnatural Ordinary series which explores unnatural situations in ordinary society.
People are hiding emotions and living in society to go well with others.
On the subject of hidden emotions, sometimes people don't want to talk about it, because it can feel shameful, painful and tough.
Especially in this pandemic, people's emotions are overflowing in the house, in their body.
Releasing the hidden emotion, even temporarily, mixed up with everyone's emotions may create connections with others.
We can lose anything, and we find many things, that's the normal, constant movement of life.
Mental health is such a big wall between society and general people, but I know everybody can be struggling with life and that's part of it.
Creepy Parade has huge potential to be a trigger to cross the mental health wall in society.
---
Creepy Parade (Manga draft 2020, Dec)
<Performers and choreography>
-Abigail Russell
-Eimear Ni Mhaoldomhnaigh
-Jude O'Neill
-Kate O'shea
-Linda Cullen

<Music>
-Brian Leach
<Videographer>
-Keith Currams (not present this day)
<Director>
-Seiko Hayase

︎1st Creepy Parade/ 16th Oct 2021 at Uillinn: West Cork Arts Centre

Partners:
-Sample-Studios
-Uillinn West Cork arts Cebtre
-CorkCountyCouncil The Department of Culture, Cork County Council and -LLPPS scheme

---
Egg - Collection Of Emotions
"Egg- Collection Of Emotions" is a large scale installation work with a height of 6m and a width of 3m (max size).
Each smaller egg gives a soft feeling of fake fur but howdo they feel when they overlap and appear in front of the crowd as a large 6m egg?
Is it horror?
Does it looks warm?
Do spectators feel uncomfortable?
This egg is a collection of exhaled emotions. I feel that the evolution of technology has made people's conversations more simple and instant. This has created a lot of communication and made it possible to interact with everyone in the world. Every second in the world, billions of emotions that arise in that communication are born and disappear.
Where did these emotions disappear?
Aren't they waiting for us to gather quietly and appear to us as a large collection of emotions, as the title?
The audience is expected to spread this collection of emotions to social networks.
I also feel that new emotions will be born and begin to gather.


"Egg-Collection Of Emotions"
Seiko Hayase 2021
Material: fake fur fablic, cotton feelings/ inside: woodstructure
Max 6m hight 3m Wide, Min 2m hight 1m Wide(about)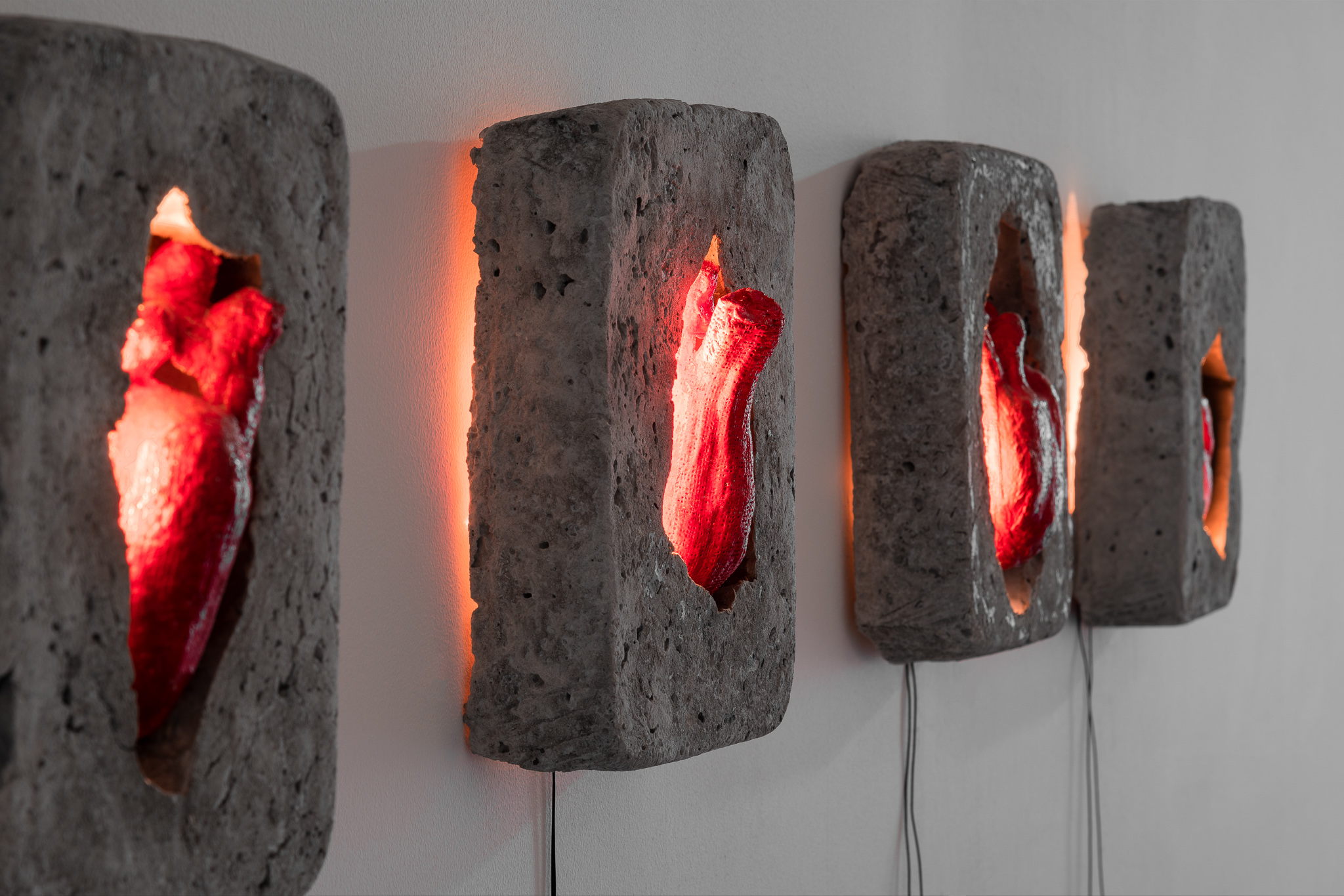 Buried heart expresses how a heart buried in hard concrete has nowhere to go and waits for its owner to return.
It's a feeling that I trapped in my heart without telling anyone. Somewhere in my heart, it shines quietly like a heart buried in this concrete, waiting for someone to find it...
---
︎︎
CAHOOTS–The Space Between
Tactic gallery 2020 program

A digital exhibition of the work of the members of
Sample-Studios, A4 Sounds and Engage Art Studios
Curated by Guest Artist Curator Nicola Anthony
Artists: Paul Malone, Brigid Mulligan, Noelle Gallagher, Aoife Claffey, Kim-Ling Morris, Seiko Hayase, Kathryn Kelly, Aideen Farrell, Alisha Doody, Megan Scott and Vivienne Molloy.

December 18th 2020 - February 28th 2021
Supported by Cork City Council and Galway 2020 European City of Culture

Rotating Human Structure



Society is spinning around and around...

The sounds of factory machines, cars traffic, people coming and going, crying, laughing, death and birth.

People continue to move rapidly every day with emotions and society.
Wake up in the morning, the night comes, and the morning comes again. It is 24 hours.

You may be crying when someone is smiling happy somewhere in the world. When you are full of happiness, the tears of someone you will never m

eet are falling.

No matter how hard and painful you feel through the night, even if you are sobbing, the morning will surely come ruthlessly.

Is it miserable? or is it happy?
What does it mean to keep spinning?
How long should I keep spinning?
Is it painful?

And in the end, it may not make sense.
At the same time, there is no night without dawn.

It will continue to spin today.



Seiko Hayase

Rotating Human Structure

paper / wire / handmade turn table, 2021
---
Fatigue Production Factory
Desperate fatigue.
A substance produced in the body.
Fatigue Production Factory manufactures this feeling of fatigue in a corner of society.
Generated well-balanced, and kept constantly in your body.
We encourage your fatigue generation forever.
To the limit..
Seiko Hayase
Fatigue Production Factory

Handmade Stocking dolls, wood structure/ 140cm round / 2021 House project from COVID-19



---